Welcome to the latest edition of our 'Device Advice' blog series, sharing our thoughts and insights into the most recent device releases from the world of mobile, tablets and beyond.
The Galaxy Note8 was released for pre-order this week and will go on sale on 15 September. It's the latest offering from Samsung and sets the bar high for premium devices; with tablet-hybrid features and functionality, plus a headline making screen, it's targeted at users that need a desktop on the go.
Work, work anywhere
One of many remote office features isn't actually part of the phone, it's the free DeX docking station for anyone who pre-orders the Galaxy Note8. This addition means users only need to connect to a monitor, keyboard, and mouse – and a hotel room, airport lounge or building reception instantly becomes an 'office away from the office'.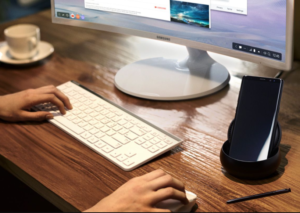 In addition, the Note8 allows for high-speed web browsing, file downloading and video streaming through both gigabit LTE and gigabit Wi-Fi. This combination provides superior connection speeds by tapping into networks that can go as high as 1 gigabit per second.
App Pairs is another useful feature for remote working; it's an extension of Multi Window which allows you to display two apps on the screen at the same time. For example, you can get up Google Maps and Gmail at the touch of one icon – invaluable for multi-tasking, especially while on the move. While Bixby, Samsung's AI assistant, is still a key feature and offers a new mode of interacting with the Note8; rather than a touchscreen you can use your voice, and ask questions and assign tasks.
However, one of the biggest additions is the updates to the S Pen stylus. There are some new features including Live Message, which can make animated GIFs, allow you to create your own emojis and enable handwritten messages on photos. From memos and bullet journaling to serious artwork and saving long articles as one image, plus mark-ups – this is a revolution for 'phone' working. The upgrades also mean 'Screen Memo' can handle up to 100 pages and 'Translate' can do entire sentences, or words within images, in up to 71 languages.
A display to rival all the rest
There's one key feature of a smartphone that almost everybody can relate to, and that's its display; it makes one of the largest impacts on user experience and device satisfaction.
And year after year, Samsung continues to better its previous display technology efforts. The Note8 is no exception, according to Display Mate it's 'the best smartphone display in the world'.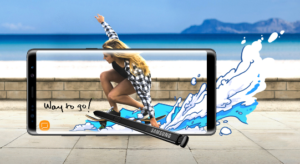 The Note8's curved 6.3-inch display is 20 per cent bigger than the S8 – the expanded screen space means more room to write and draw – but the dual-curved edges and a minimal screen bezel make it manageable. It's also brighter too, an impressive 22 per cent brighter than the S8 and sports a higher resolution than the S8 Plus.
The Super AMOLED display provides warm, saturated colours, while maxing out brightness and contrast with super-whites and ultra blacks – a product feature that even Apple's iPhone Retina displays haven't been able to match as yet. The viewing angles are also flawless, and the screen is extraordinarily sharp thanks to a Quad HD+ resolution.
Anything else?
Samsung has held out on the current dual-camera craze until now, but sometimes the best things come to those who wait. At the back of the Note8, you get two 12Mp lenses, one wide-angle and one telephoto, and both support optical image stabilisation; enabling you to create a 'bokeh' effect – or you can even pair the two to take two slightly different images at once.
 Other features to note include the waterproof rating, it's the highest you'll find on a smartphone and means you can submerge it in up to 1m of fresh water for up to 30 minutes.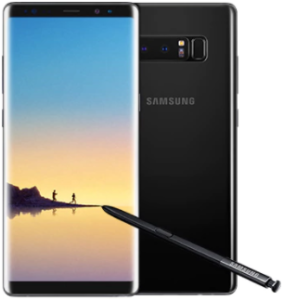 However, it is interesting that despite its larger physical size, it sports a smaller battery compared to the Note7. The 3300mAh battery is decent but not as big as it could have been… this could be Samsung playing it safe after the well-documented fire issues and subsequent recalls of the Note7.
And the price – unsurprisingly premium. Before VAT the Note8 will cost around £725, tipping into the realm of laptop pricing. But with the DeX docking station, and even as a standalone device, some will justify this as a way to eradicate smartphone and tablet and purely go smartphone.
Stay tuned to the Adam Phones blog for more reviews of the latest devices, and make sure to keep in touch with us on Twitter, LinkedIn and Google+.