Welcome to the latest edition of our 'Device Advice' blog series, sharing our thoughts and insights into the most recent device releases from the world of mobile, tablets and beyond.
The recently revealed Galaxy S8 is certainly one way to make a comeback. Samsung has been plagued by combusting phones, since problems with the Note 7, but it's fighting back with the release of the biggest design revolution since the iPhone.
One of the most impressive features of the new Samsung offering is an edge-to-edge "infinity display"; almost the whole face of the device is taken up by its screen, with no buttons on the front. Some could be worried this might mean an enormous phone but the all-glass body is slim and long – designed to be held in one hand – and the screen takes up 83 per cent of the front of the phone.
The physical 'home' button has been removed and replaced with a pressure-sensitive panel underneath the screen, so that the front of the device is a sheer pane of glass. The only parts of the front not covered in screen are a strip at the top containing a selfie camera and an iris scanning sensor that lets users unlock their phone by looking at it; the fingerprint scanner moves to the back.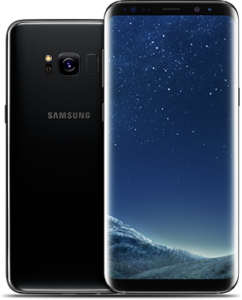 Another standout feature is Bixby, Samsung's first artificial intelligence assistant – designed to rival Siri, Google Assistant and Alexa. Bixby will be able to support any task asked of it, as well as understand the current context of commands based on where a user is within an app. This allows users to continue what they're doing without interruption and they also don't have to remember which features do and don't work with voice command.
There's also a multi-tasking function, which allows two apps to run on-screen at the same time – so you can continue watching a video while replying to an email. Other enhancements for efficient working include 'Edge' software, which allows you to add shortcuts to contacts and apps in a pull-out panel on the edge of the display.
Other features – too many to list in entirety here – include Bluetooth 5.0, the latest version of the wireless standard, which allows you use two sets of wireless headphones at the same time. And there's been mention of the ability to connect to a monitor to control the phone with a keyboard and mouse.
The device also boasts the industry's first 10nm chip, which Samsung claims enables heightened speed and efficiency – reportedly 11 per cent faster and 20 per cent more energy efficient than the Galaxy S7. It also contains 6GB RAM and 64GB of in-built storage, expandable up to 256GB with a MicroSD card. And reviews claim improved battery management, wired or wireless charging and fast charging – e.g. about 15 minutes of charge giving you a third of your power back. This would be invaluable for workers who are often out and about, whether working on project sites or hopping between meetings.
One final thing of note is the S8's accolade of the world's first mobile device certified by the UHD Alliance as "Mobile HDR Premium" – meaning it lets you see the vibrant colours and contrasts that filmmakers intended. It has a 12-megapixel "Dual Pixel" camera and an 8-megapixel selfie camera on the front. There's also an impressive range of shooting options from the clever auto mode and smart autofocus to the professional mode – as well as improved low-light, zoom, anti-blur photos and a new augmented image search.
The phone will go on sale towards the end of April, but it won't be cheap, it's estimated at £560 (plus VAT). While the S8+ – a slightly larger model with a bigger battery – costs around £640 (plus VAT). The Samsung Galaxy S8 is certainly a stylish phone, with a long list of exciting features that both business and personal users will want… definitely a 2017 flagship contender.