A week after Apple released the iPhone X alongside the 8 and 8 Plus and a new operating system began infiltrating Apple devices.
Introducing, iOS 11, an update packed with so many new features and design changes that even those who are not keen to upgrade their device will be kept entertained.
The update will be available to users with devices starting at the iPhone 5s, the iPod touch 6th generation and the iPad mini 2, upwards, whilst any older generation devices will need an upgrade. It's not just devices, but applications too. All apps of 32-bit processors will no longer receive support as Apple will require apps to be compatible with 64-bit processors. Should users wish to open a 32-bit app they will be reminded they need to upgrade the app to proceed.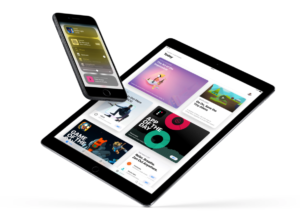 Whilst the upgrade in operating system is applicable to iPhone, iPod and iPad, iOS 11 has been positioned by many as the most important update for iPad users to date. Functionality has improved, so much so that Apple's newer tablet releases – the iPad Pro 10.5 and iPad Pro 12.9 – can now be considered viable laptop replacements.
The application dock is now accessible within any app. It's hidden but can be accessed with a swipe, an improvement that will enable users to work faster and smarter. User experience improves further by allowing multi-app functioning and the ability to drag and drop content from one place to another. Not only does this position the iPad against the capabilities of Microsoft's Surface tablet, but for business use, in particular, this offers a notable advantage when combined with the new Files App.
'Files', available on both iPad and iPhone will enable users to access and edit files stored on cloud services such as Microsoft OneNote, Google Drive, or iCloud drive, once again reinforcing the message that Apple's iPad can be used as a laptop, (or a MacBook replacement for those who require a lighter or more portable alternative.) Storage will also become less of a concern, iOS 11 will give users a new way to control their storage and to see how best to optimise space on the device.
In line with safety requirements, a new safety feature 'Do Not Disturb While Driving' has been launched, detecting when users are driving and blocking notifications in the process.  This is something that is sure to please employers concerned about the risks their colleagues can face when maintaining communication on the road.
Outside of facilitating business communications, the latest iOS update becomes more intuitive. Users will see an upgrade to Siri, both in voice and personality. It will become more intuitive; news from Apple's dedicated app will be tailored to the user, whilst calendars can be updated in line with voice command. For those looking to travel and navigate the language, translations will become simplified – on the spot translations including Mandarin Chinese through to Spanish, German and Italian ensure users will be better prepared for travel, easing communication whether for work or leisure.
Fuelling competition against the Microsoft Hololense and Google Tango, iOS 11 has enabled Apple to offer Augmented Reality (AR). The AppStore itself is beginning to overflow with AR apps whilst the platform that Apple is offering developers alongside the developer-focused ARKit may soon see Apple change the definition what is 'expected' in future devices. iOS 11 will also include the ability to interact with 'Animoji', the combination of emoji, animation and reality all in one.
Apple has traditionally had issues with the early days of operating system upgrades and iOS 11 has been no different. Despite four months of beta testing, a second release in the guise of iOS 11.0.1 has been hot on the heels of the 11th OS upgrade, and no doubt further bugs may yet be discovered. What this update does ensure is a more customised and personalised experience, across both tablet and mobile devices. iOS 11 alongside Apple's latest iPhone releases certainly demonstrates their intention to lead in innovation across the sector.