Growth of 'Collaboration' tools
The last few months have seen a huge growth in business requirements for non-geographically defined workstream collaboration, leading to near exponential growth for key players within the UCaaS (Unified Communications as a Service) industry.
Adam Phones is proud to work with some of the leaders in this space as rated by the Gartner Magic Quadrant, where UC capability is built on the back of enterprise-grade cloud-based PBX functionality and includes additional features such as instant messaging, presence settings, voice and video conferencing tools.
Exponential growth of Teams
Microsoft Teams is Microsoft's own unified communication and collaboration platform. The service integrates with the company's Office 365 subscription office productivity suite and features extensions that can integrate with non-Microsoft products, such as Direct Routing solutions. Microsoft Teams is a competitor to services such as Slack and is the evolution and upgrade path from Microsoft Skype for Business (formally Microsoft Lync).
Key features include:
 Audio, video and web conferencing
 Collaborative file sharing
 Calendar integration
 Instant messaging with GIFs and memes
 Integration with multiple apps
By including Microsoft Teams as a free add-on with qualifying business licenses (such as E3 and E5) the number of users has grown exponentially. Presently there are approximately 200 million Office 365 licenses active globally, including around 7 million in the UK.
Limitations of the service
At present, while Teams is able to support PSTN enablement, activating the phone system – which allows for external dialling, audio conferencing, scheduled meetings and meeting recording – is a chargeable feature, for which businesses will also incur further charges for call bundles. For these reasons, only around 8% of users currently benefit from this feature, meaning that 92% of Teams users aren't utilising the full capability of their solution.
Additionally, Microsoft calling plans are both expensive and inflexible when compared to solutions offered by leading telephony specialists, some of whom Adam Phones are proud to work in partnership with. The complexities of voice delivery such as call quality, number management and porting require core competencies that these specialist service providers have within their networks. In contrast, Microsoft calling plans are unable to support QoS (Quality of Service) within an SLA, and NGN (Non Geographical Number) Termination is not supported.
What can Direct Routing for Teams offer?
Direct Routing is a cost-effective and flexible way to maximise the potential of your Teams environment. It enables full, carrier-grade voice capability natively into Microsoft Teams, as an alternative to Microsoft calling plans and without the need for on-premises hardware. It features a highly reliable, resilient architecture that allows for simple provisioning, enhanced call control features and carrier-grade infrastructure from the UK's number one SIP provider.
Our service utilises Microsoft certified Session Border Controllers (SBCs) to deliver better value, greater flexibility, increased functionality and support for migration, all as a cloud-based service. Direct Routing for Teams provides connectivity to your Microsoft Team's tenant, enabling full PSTN breakout on the public telephone network. This allows businesses to utilise Teams as a full cloud-based UC solution, underpinned by enterprise-grade telephony.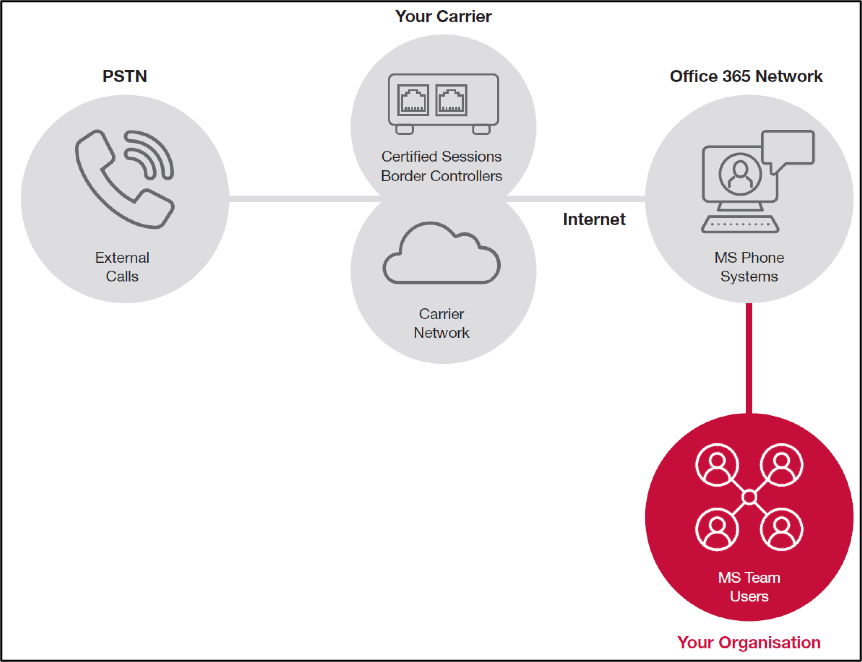 Fig 1. Basic Direct Routing for Teams architecture
To learn more about how Adam Phones can support you with a bespoke Direct Routing for Teams solution, view our dedicated data sheet or call our consultants on Freephone 0800 123000 or contact us at fixedline@adamphones.com