The use of mobile phones unsurprisingly continues to dramatically increase, where, in the UK alone, smartphone owners are likely to spend in excess of one billion hours on their devices over the next week.
In fact, according to Deloitte, the average smartphone user touches their device thousands of times a day, whether they are interacting with a GPS system, updating their social networks, or responding to a work email.
As smartphones are rapidly impacting our behaviour, we determined at what level this impacts user data consumption, using analysed anonymised data consumption from our proprietary billing platform.
We took a look at the last few months, January – March 2019, and how this compared to the same time period in 2017, to determine the extent to which data usage across mobile has changed.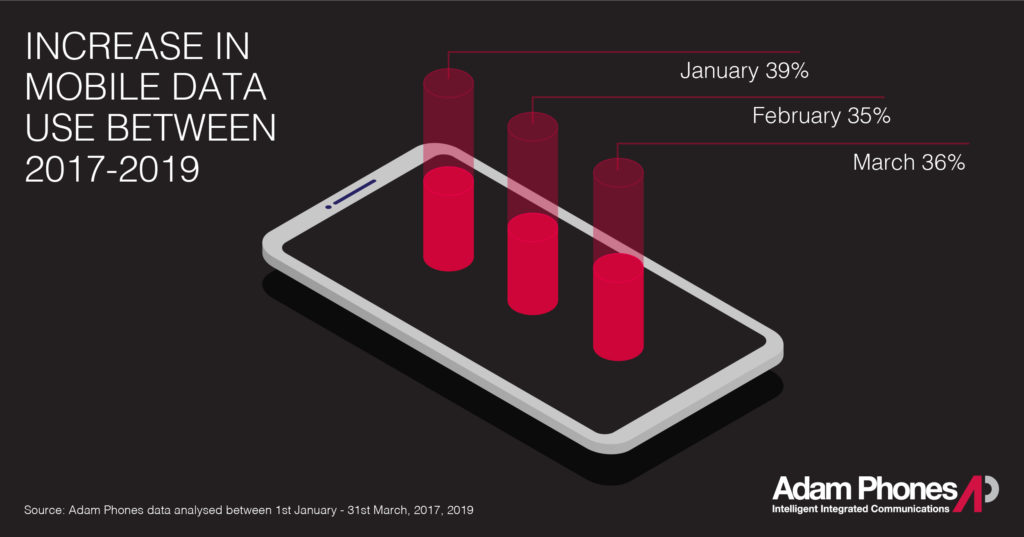 Our data backed up the findings of Deloitte – users are accessing information across their mobile phones far more now than ever before, with a 36 percent increase in data consumption between the first three months of 2019, compared to the same three months, two years previous.
It's easy to understand why this may be the case.  Applications and streaming services alone have become more sophisticated over the last two years, enticing users to engage regularly.
Spotify, for instance, has grown from 132 million users in 2017 to 207 million, whilst the number of Netflix subscribers has increased 50 percent to over 150 million. Whilst these are global statistics, they demonstrate the significance in the uptake of streaming services as we continue to dive deeper into an access economy, particularly through mobile devices.
From a technical perspective, device hardware hasn't changed too significantly over this period, but the development of infrastructure has. Mobile networks are continuing to invest in the future, positivity impacting levels of coverage and connection speeds for more people, making data easier to consume on the move. In addition, with the rollout of 5G and the demand for IoT connected devices on the horizon, data usage will only continue to grow further.
Today, the average mobile contract can last anything upwards from 24 months. With a 36 percent increase in data consumption recorded over the same time period, device owners or budget holders for a fleet of devices need to be aware of how changes in data consumption can quickly cause unexpected (and often expensive) costs.
At Adam Phones, we empower our customers to make informed decisions on their data usage. For more information on how you can increase your visibility or control over data use and spend, get in touch or visit www.adamphones.com