As many in the industry will be aware, the second EU-led Markets in Financial Instruments Directive (MiFID II) compliance deadline is drawing ever closer. MiFID II applies to firms that provide services linked to 'financial instruments', such as shares and investment schemes, and seeks to enhance the robustness of financial markets.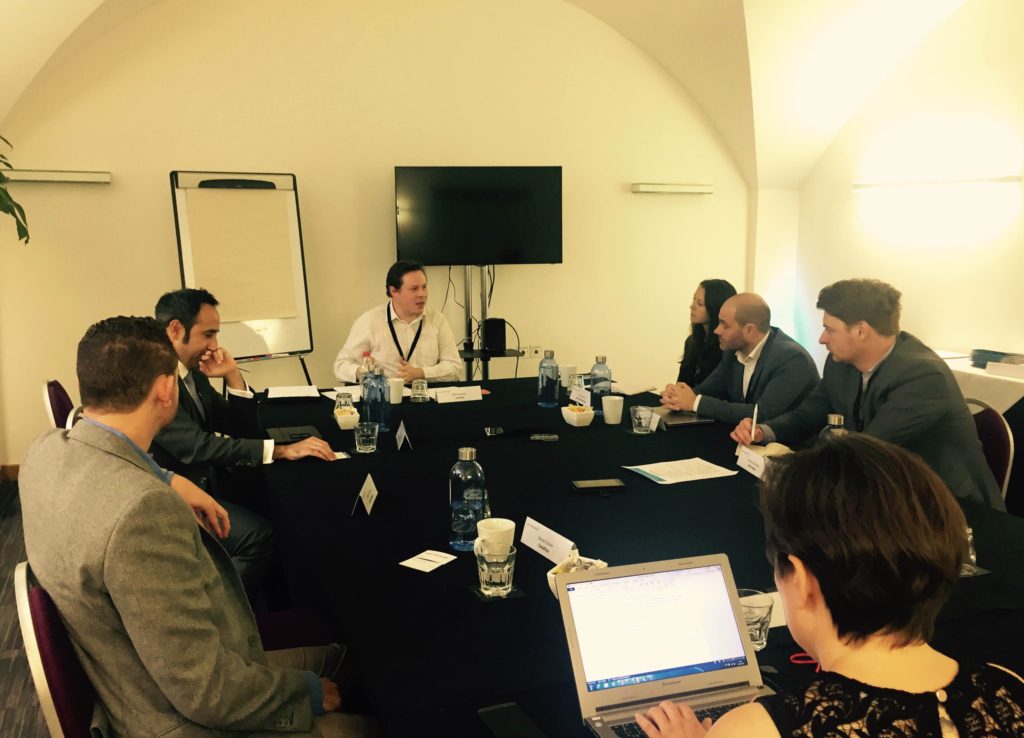 Starting with the launch of our Mobile Voice Recording solution earlier this year, we've been raising awareness of the requirements of MiFID II within the financial services sector. This week we were pleased to join a roundtable discussion on MiFID II to discuss the impact this regulation will have on the industry.
Hosted by NoSQL database management company DataStax at the Cavendish Conference Centre in London, speakers included Danel Cohen, Solutions Engineer at DataStax, Ade Dickson, Solutions Director for Financial Services at Sopra Steria, and Alex Phillips, Head of Mobile at Adam Phones.
The discussion covered an interesting array of topics including voice data, and Alex had the opportunity to share insights into the principles of our Mobile Voice Recording solution, including the benefits of recording calls at network level. He also gave a brief background of voice recording technology and how this has developed and evolved over the last few years.
The conversation continued with a focus on compliance timelines. All parties were in agreement that the MiFID II implementation deadline, 3 January 2018, is unlikely to change again. However, whether companies were on track to meet the deadline was open to speculation. Each of the speakers highlighted that the lengths companies need to go to in order to meet compliance can vary hugely.
Alex went on to outline how hedge funds may find it easier than banks to make essential changes to their data storage systems, adding, "The scalability to shift from an in-house storage system to the cloud is significant – but companies must be prepared for an exponential increase in data, as this could happen very quickly."
Ade Dickson of Sopra Steria commented, "The reason the compliance deadline was moved was because of the perception across Europe that IT systems would not be ready. An extra year has been granted, so I personally think there won't be an awful lot of sympathy for those firms that aren't ready by January 2018. There are penalty regimes associated."
It was also suggested that compliance planning could be hindered by the internal expertise within a company that is available to implement these changes. The legislation needs to be interpreted correctly, and a complete regime needs to be in place well in advance of the deadline. This must include how to source and store the new forms of data that have to be collected, and how to retain data so that the organisation remains compliant.
Talk then turned to how companies will deal with the new deluge of data that will be created in order to comply with MiFID II, and how the FCA has influenced this. The FCA's endorsement of how to embrace the cloud has sent out a positive message and should help to drive down the cost of regulation. It was stressed that all companies are still on a journey towards compliance.
Most parties agreed that the principles behind MiFID II are to drive good practice, and the conversation moved on to how companies manage this and use the data for their benefit. Daniel Cohen of DataStax commented, "It is important that companies plan for the long term, and don't just focus on the compliance deadline."
As the roundtable drew to a close, the panel agreed: you're either completely MiFID II compliant or you're not. There's no middle ground.
To find out more about what MiFID II will mean for your business, get in touch.