We live in an era where people are always connected and with access to rich content.  It's therefore no surprise that data usage is increasing, especially during global events such as the World Cup.
With unparalleled choice in terms of on-demand viewing, the World Cup was an event that millions closely followed, the England team certainly keeping the country on its toes.
However, with numerous World Cup matches taking place during the day, or with travel commitments outside of the UK already in place, many turned to view the games via streaming services, with broadcasters including the BBC reporting record-breaking audiences. Social media usage also increased, with 672 million World Cup related tweets and over 280 million Facebook posts shared during the event.
A recent report by Ofcom revealed that audiences are increasingly opting for online  streaming services – placing a higher demand on the UK's fixed line and mobile networks than ever before. This demonstrates a shifting dynamic in the way media (and data) is being consumed. Whilst mobile viewing offers flexibility to the consumer it can also lead to unexpected costs to the bill payer, particularly with inflexible tariffs or high roaming charges.
Using anonymised data from our proprietary billing platform, we analysed data consumption across all our customers during the World Cup period to determine the impact on usage.
The data is averaged per user and aggregated across all of our mobile carrier partners.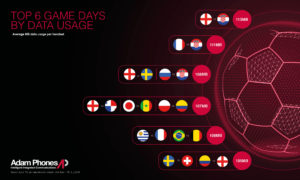 After England's most successful World Cup in 28 years, it is perhaps unsurprising to see that the England matches featured in four of the top six game days rated by data usage, with the semi-final match between England and Croatia even trumping the World Cup final itself for the top spot.
The strong levels of data consumption were maintained throughout the 32-day tournament, our statistics revealing that customer mobile data use increased by 26 percent in comparison to the same time period in 2017.
Events such as these can easily result in users exceeding their mobile data allowances, ultimately leading to bill shock.  Inflexible or restrictive tariffs introduce challenges when there is additional demand for data usage.
Intelligently managing data usage
Tariffs which offer a data allocation per user are both inefficient and difficult to manage.  Shared data pools deliver far greater efficiencies, especially when the same data can be seamlessly used in many destinations overseas, automatically, and without any action required to enjoy this benefit.
Despite the clear advantages of a shared data pool, the trend for increasing data consumption globally means that  organisations need instant visibility of patterns of usage, both in the UK and overseas, to be in a position to make informed decisions that optimise tariffs and remove bill shock.
The Adam Phones Portal offers a comprehensive suite of online tools that enable customers to instantly see costs and usage across their mobile estate for both voice and data.  Alerts can be set when chosen limits are reached for a data pool as a whole, for example, or when individuals exceed certain thresholds. Graphical month-to date usage illustrations also forecast future consumption to assist decision making.
For more information on how Adam Phones can help you with preventing bill shock or to improve the visibility of your mobile estate and costs, get in touch or visit www.adamphones.com.