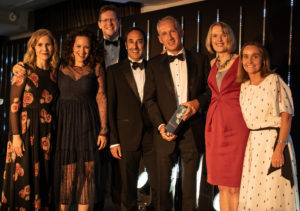 London, United Kingdom, 11th July 2018 – Recognised for delivering outstanding customer experience, upholding the highest trading ethics and fostering constructive engagement with Vodafone and clients alike, Adam Phones has won Vodafone's Independent Service Provider of the Year Award for 2018.
Vodafone named Adam Phones Independent Service Provider of the Year at its annual awards ceremony, Vodafone Partner Conference 2018. The event took place last Thursday (July 5th) in London at the County Hall to celebrate the performance of its partners over the past financial year and share plans for the future. It is crucial to Vodafone to find partners that hold values that align with their own and look to merit this at the annual Vodafone Partner Conference.
Adam Phones has a long history of working closely with Vodafone, and this award demonstrates both the value of the relationship, and the strong, mutual respect between the two organisations. The partnership has been growing over 30 years and Adam Phones has the highest level of accreditation as a Vodafone Premier Partner.
Adam Toop, Chairman & Chief Executive Officer at Adam Phones, commented "As one of Vodafone's longest standing partners and having just celebrated our thirtieth anniversary, this award comes at a wonderful time for us. For three decades we have built our business to be both transparent and sustainable, benefitting our staff, partners and customers. This award is testament to the ethics that underpin our strategy."
Helen Freestone, Director UK Partnerships & Alliances, commented "The winners of the Vodafone Partner of the Year Awards are outstanding businesses operating in the UK indirect channel. As technology and connectivity become ever more important to UK businesses, it's fantastic to celebrate so many of our partners at our annual awards. We will continue to invest in our channel programme and look forward to sharing many more successes in the future."
Left to right: Sally Phillips, Actress, Juliette Lee, Enterprise Director at Adam Phones, Edward Behan, Chief Technology Officer at Adam Phones, Alex Phillips, Head of Mobile at Adam Phones, Adam Toop, Chairman and CEO of Adam Phones, Helen Freestone, Director UK Partnerships & Alliances at Vodafone and Anne Sheehan, Enterprise Director at Vodafone