As businesses across the UK plan for their return to business as usual, the responsibility falls to employers to ensure they are doing everything in their power to protect their employees. The spread of COVID-19 still remains a risk but technology can help you to reduce the spread and reassure the people on your premises.
All physical things, including people, radiate infrared energy. This can be detected by a thermal camera, with different surface temperatures visualised and represented as different colours on a display. The technology requires no natural light and does not require physical contact with the target to read temperature.
Any scenario in which controlled access is given to groups or streams of people – whether they are employees returning to work, authorised persons, or members of the public – can benefit from preventative temperature screening at entrances and exits.
Through relationships with several key partners, Adam Phones is in position to offer recommendations about multiple thermal imaging technology options, depending on the scale and budgetary requirements of your business, as well as the speed of deployment required.
Vodafone Heat Detection Camera Solution
Vodafone's Heat Detection Camera Solution utilises leading edge thermal imaging technology combined with Vodafone's market-leading IoT network to help you quickly and accurately screen individuals for raised body temperature – a symptom of COVID-19.
Our Heat Detection Camera Solution is delivered as a managed service, allowing you to simply access a portal from a secure tablet to screen the skin-surface body temperature of staff or members of the public entering your premises.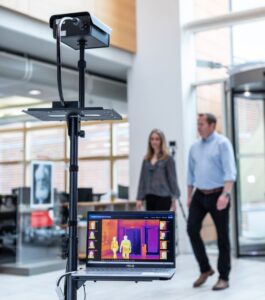 Screen up to 8 people at a time and 100 people every minute

Keep your staff where you need them most as the cameras require no supervision

Rely upon the only commercially available solution that has an integrated management and alerting system

Manage multiple cameras across multiple sites via a single tablet

Receive peace of mind with 24/7 technical support and next working day on-site repairs

Maintain complete control over captured data via Vodafone Secure Cloud Service with end-to-end encryption

 Detect those with raised body temperatures using intelligent thermal and HD cameras with 0.3°C accuracy.

Receive discreet automated alerts via a secure, centralised console so you can determine any further action to be taken.

Installed within two hours, the standalone solution needs no IT integration, so you can stay focused on your business priorities.
CAT S61 Thermal Imaging Smartphone
The CAT S61 is a rugged smartphone with an integrated FLIR Lepton thermal camera that has proven to be an indispensable tool in a host of contexts, from industrial to recreational. Though standalone thermal cameras are available, the thermal camera integrated into the Cat S61 offers a number of key advantages: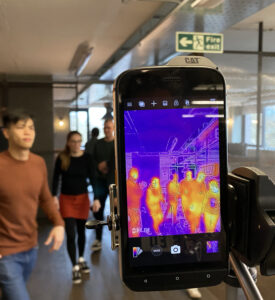 CAT phones are military spec 'rugged' devices. This means they are tough and robust, making them suitable for use in any environment, indoors or outdoors. They are rigorously drop tested onto steel, tested in temperature extremes, resistant to scratches and damage, and built to survive.

The Cat S61 is IP68 certified, meaning it is fully dust and dirt-proof, and can be fully submerged in liquid. They can be cleaned with hot or cold water and soaps or detergent or disinfected using alcohol gels. This means it remains a hygienic solution, even when used all day.

They are connected devices. As smartphones, thermal imagery or other data collected can, where necessary, be shared, streamed or mirrored via a USB connection, or via WiFi or cellular data connections.
A Cat S61 can be mounted on a tripod or stand and directed at a space through which people would be directed or required to pass through, ideally within 1.5 metres of the camera. The thermal camera can be configured with a fixed temperature range to ensure that anomalies stand out clearly from those within the expected range. This means that anyone passing the camera with an unusually high temperature, outside this defined normal range, will show up clearly as a contrasting high-temperature colour.
For the additional safety of the operator, the thermal camera feed can be mirrored or streamed to a remote display. This can be done via a USB cable connection to a laptop or tablet, or via a WiFi or cellular data connection.
While this is not a technology best suited to taking precise measurements of individual's skin temperature due to environmental condition variables that can affect the accuracy of measurements, for screening groups of people to identify those with anomalously high temperatures, thermal imaging on mobile devices represents an effectual, affordable, scalable, and easily deployable solution.
To find out more about the benefits of Thermal Imaging Solutions and how Adam Phones can support your business needs, call us on 0800 123000 or contact your Adam Phones Account Manager.